Hi Guys
Big Buddy is finally done .The name was adopted frim my Cat Buddy who is a grey blue cat .
Here are some specs:
Painted in Audi Nardo Grey
Shaved bumbers
SSR Formula Mesh wheels 15' x8.25j wrapped with 195x50x15 in front and 195x65x15 in the rear
Front suspension has been completly overhauled with new King and link pins, tie rod and rack ends and steering damper. Front brake drums has been replace with Bolt o Golf Disc brake kit. The H beam has been fitted with top and bottom Empi adjusters.Rear brakes drums has been replace with flat face VW 1303 drums to accommodate the four bolt wheel pattern. No adapters is used to fit wheels.
The interior has been completely reupholstered , reupholstered original seats and door cards, new roof lining and new carpets with a MOMO PROTOTIPO Steering Wheel, Scat T bar gear shift handle and Empi short shift kit fitted to gear lever .
Engine is stock 1600 twin port .
Compufire ignition
Delorto 36DRLA twin carbs on Empi intakes and Linkages. Original Empi stuff bought more than 20 years ago , not the cheap chinese rubbish of today
Exhaust
Empi merged 38mm 4 into 1 Headers with Empi Stinger pipe and Phat Boy style Exhaust.
Thanks to all who assisted in my build .
Sidney Fritz whi sold me the car
Tony Zenger for the parts you supplied and advice
Riaz Samie who was on call when i needed you
My Loving Wife who tolerated my dirty greasy ass .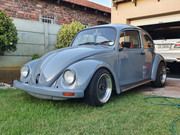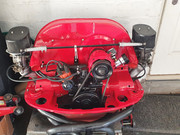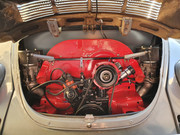 Buddy and the Gecko