Hi everyone!
As promised in my introduction post, here are some pics of one of my cars. My 1963 VW Beetle 1200 and my absolute pride and joy. This car is also where my passion for old VW's stem from.
She was built in Germany in April 1963, then assembled at SAMAD in Uitenhage in June (according to the VPO number) and then sold to Mr. Willie De Lange on 14 August 1963 at Broderick Motors in Vanderbijlpark. Willie, and his wife Bettie, were also very good friends of my grandparents at the time. Fast-forward to 1979 when my mother was in her first year at varsity and was starting to get a bit tired of taking the bus. My grandfather suggested to her that she buy this Beetle from Oom Willie, who still owned it. Sadly, by this time, the poor Beetle had long fallen into disuse and was standing on blocks behind his house. 16 years worth of rust was also showing - must have been the acid rain in the Vaal Triangle? So, my mother sold her brand new sewing machine to come up with the R200 that she paid for the car. My grandfather helped her to fix the rust on the body and pan and also got the car mechanically sound. She was finally registered on my mother's name on 13 March 1980. My parents got married in 1982 and she was also used as the honeymoon car. I was eventually born a few years later and so, this Beetle has been part of my life since the day I was born. I'm extremely privileged and grateful to be her current owner for the past 15 years.
I use her regularly and my plan is to treat this as a preservation and not to restore - apart for a few exceptions. Sadly, she has had 2 bad re-sprays in her lifetime and is not the original shade of "Sun Glow Yellow" anymore. I would like to restore her mechanically. I want to replace the tired carpets, which isn't the original anyway. The front seats are from a late 70's Beetle and were reupholstered by my aunt about 20 years ago. I would like to replace the seats with originals and reupholster the seats and door panels in something a bit more period. Most rubbers are also far past their expiry date. Rust has a also returned since my grandfather "fixed" it 40 years ago and is a massive concern. But I guess one has to draw the line at some point and decide when a "preservation" should be turned into a restoration?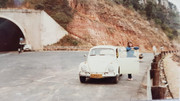 Pic from 1981 when my parents (who were still dating at the time) toured the Eastern Transvaal (Mpumalanga).